DreamMaker Bath & Kitchen
Franchise Fee: $40,000
Royalty: 7%-3%
Total Investment: $211,460 - $399,185
Founded: 1971
Franchised: 1999
Can Be Home Based: No
VetFran Member: Yes
SBA Approved: Yes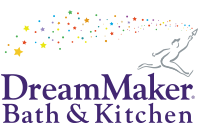 First and Foremost, DreamMaker franchisees offer the niche of professional kitchen and bath remodeling.
Additionally, our business model is designed to expand into full interior remodeling as your confidence, competency and business grows.
This allows you to maximize your marketing dollars and create a customer for life.
DreamMakerís business practices are guided by biblical principles of service, respect, and integrity ó and they are key to our success.
How we're different from many remodelers: We work with our clients beginning with and through and to ensure the highest standards along with superior service throughout the project, while
helping our customers achieve their remodeling dream.